Our History
Mile of Cars® in National City celebrates serving San Diego and Tijuana for over 60 years.
Select a year:
2013 / 2012 / 2011 / 2007 / 2003 / 2002 / 1997 / 1996 / 1992 / 1991 / 1986
1982 / 1970 / 1965 / 1955 / 1949 / 1929 / 1912 / 1910 / 1905 / 1900
Perry Chrysler opens.
Mossy Fiat opens.
South County Buick GMC opens
Frank Subaru opens.
In 2011 ​The Mile of Cars launched our new freeway signs. This is of the ribbon cutting. The boards are 3 boards in National City off the freeway.​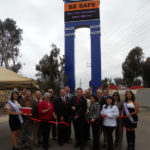 Ball Kia opens.
Frank Scion opens.
Perry Ford opens .
Ball Acura opens .
Mile of Cars – 1996 The National City Mile of Cars underwent a $1.8 million beautification plan in 1996 to better showcase its 20+ dealerships.
Ron Baker Chevrolet staff, 1993 Most of these employees still work there 20+ years later!
Photo on the left: Ron Baker Chevrolet Service Technicians (top from left) Dennis Coughlin, Ignacio Rascon, Joe Feldman, Bill Kuri, Tony Magana, James Filimon, Armando Espinosa, Jeff Hix, Sergio Nunex, Joe Downery and Kevin Schiff (bottom from left) Miguel Bernal, Ravinder Dewan and Jerry Warren.
Photo in the Middle: Parts Department (from left) Ronald Kennedy Jr., Stan Funicelli, Marco Guerrero and Alfred Mayor.
Photo on the right: Service Department (from left) Robert Coduti, Frank Villanueva, Scott Hasted, Fred Duey and Bill Cumming.
Ball Mitsubishi opens.
Ron Baker Chevrolet opens.
South Bay Volkswagen opens.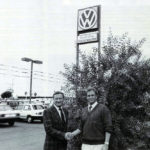 Frank Hyundai the 20th US Hyundai dealership opens.
The first of now 7 Mossey Nissan dealerships opens.
Mile of Cars – 1970 Ball Honda opens.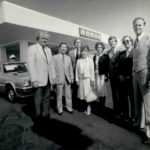 Mile of Cars – 1965 In 1965, while National Avenue echoed to the throaty sounds of muscle cars like the new Pontiac GTO, five dealers, Stanley, Webster, Ball, McCune and Dailey, formed the new "Mile of Cars."
Frank Motors opens a Lincoln Mercury dealership.
Frank Toyota opens.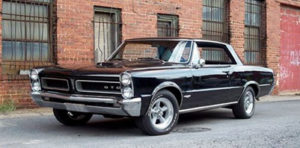 Mile of Cars – 1955 In 1955, dealerships flourishing along National Avenue and began advertising themselves as the Mile of Cars. A new Ford Fairlane Sunliner could be bought for $2,764.00.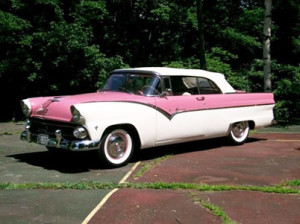 Mile of Cars – 1949 During the 1940s, Kile Morgan opened "Morgan's Better Used Cars" and introduced National City to a new breed of American car such as the Buick Roadmaster convertible.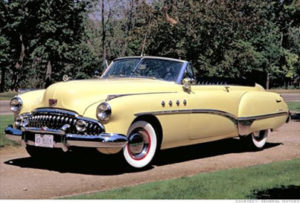 Mile of Cars – 1929 By the 1920s, National City was home to bootleggers and a frequent stop for Hollywood movie stars like Clark Gable and his Packard Twin Six roadster.
Mile of Cars – 1912 Lilian Rice was the talk of the town as she drove her Cole 30/40 around National City. It made such a spectacle that she was featured in the society pages of the National City Record in 1912.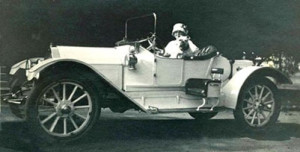 Mile of Cars – 1910 Clarence and William Hunt opened a Ford dealership in 1904; and in 1910 were contracted to build the "Hunt Special" specifically to survive the rigors of the terrible roads in National City.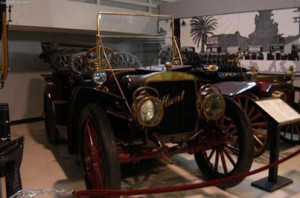 Mile of Cars – 1905 Ralph Granger is the original owner of the home pictured below and was the first person to purchase an automobile in National City. His love of music also led him to purchase a large, expensive string collection in which he had a private music hall built. The restored music hall still stands today in National City and is listed on the National Registrar of Historic Places.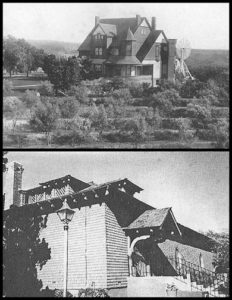 Mile of Cars -Opened in 1900 National City's automotive heritage began in 1904 when Ralph Granger bought the first motor car in the city.